Services and Programs
Florida Heiken Program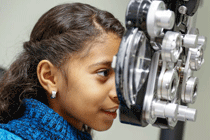 Established in 1992 the Heiken Program allows needy children to get prescription glasses free of charge.
Better Chance Music Production Program™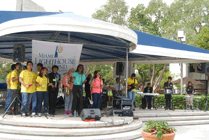 Miami Lighthouse for the Blind and Visually Impaired offers an inclusive, innovative year-round music education initiative targeting sighted and visually impaired young adults.
Braille Music Distance Learning
A series of Braille music lessons from the nationally acclaimed Better Chance Music Production Program™ is available in a distance learning format for blind and visually impaired students around the U.S. The course enables the Level 2 Braille reader to have information on sheet music equivalent to a sighted musician.
Children's Services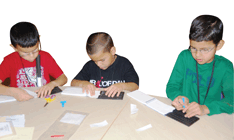 Youth Programs at Miami Lighthouse enable teens to transition into adulthood whether they want to pursue a career, higher education or acquire the skills necessary to live more independently.
Transition Program
The Transition Program is a year-round program that provides individuals 14-22 the opportunity to develop skills to enter the work force or post secondary education. Students learn important life skills like home and personal management, assistive technology, job readiness, orientation and mobility, social skills and community integration.
Adult Services
Programs at the Miami Lighthouse for the Blind and Visually Impaired enable blind and visually impaired persons to regain independent living skills.
Life Enrichment Classes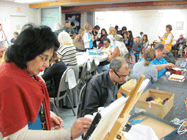 The Miami Lighthouse for the Blind and Visually Impaired provides a variety of classes designed to improve and expand the lives of students including Senior Group Health and Activities Program (SGA).
Braille Lessons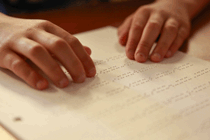 The Miami Lighthouse for the Blind and Visually offers lessons designed to improve Braille skills of visually impaired people.
Parent Information About Children's Program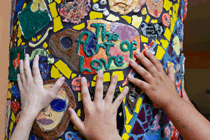 Information for Transition Program Participants
Click here to view survey results of all of our programs.
Rights Under Title VI (
English
|
Spanish
)


Jan and Daniel Lewis, Agustin Arellano, Sr., Commissioner Sally Heyman, Mrs. Sash A. Spencer, Chair-elect Ray Casas, Virginia Jacko President & CEO, Carmella Witt, Mayor Tomas Regalado, Marta Weeks Wulf and Penny Stamps at Dedication Ceremony for new 4th Floor, October 7, 2014.
Click here to read press release and
view additional pictures.




Miami Marlins check presentation: PJ Loyello
Senior VP of Communications & Broadcasting,
David Samson Miami Marlins President,
Board Chair Agustin Arellano Jr.,
President & CEO Virginia Jacko,
Miami Marlins Outfielder Giancarlo Stanton,
Honorary Board Director Ray Casas and
Alfredo Mesa Executive Director of
Miami Marlins Foundation.




The Blind Visionary
All of Virginia's royalties and part of the publisher's
royalty income will be donated to blind services at
the Miami Lighthouse for the Blind
Click to read Ability Magazine




State of Vision
Sales of the "State of Vision" license plate support services to blind and visually impaired people. Miami Lighthouse is the recipient of a portion of the proceeds from the sale of this license plate. The cost is $25.00 in addition to the regular registration fee.